Known for Canada's only authentic Oktoberfest (the second largest in the world), the city of Waterloo attracts plenty of beer-guzzling, partying post-secondary students. But they aren't the only ones arriving in Ontario's high tech capital each autumn to attend one of two university campuses: Wilfrid Laurier and the University of Waterloo. Out of a whopping 50,000 students (half of the city's population of 100,000), plenty are intent on pursuing their studies.
The studious types are easy to miss though. After all, the bookish individuals in the crowd probably aren't the ones strutting the black and gold from bar to bar during orientation week or screaming the loudest to cheer on the Golden Hawks. While bracing for the annual influx of obnoxious students, it's easy to be tricked into believing that university towns carry too much of a load of drunk and disorderly conduct and reap very little for their troubles. But this couldn't be further from the truth. Yes, you might be frustrated by messy rental properties and noise complaints, but studies are showing that students are hugely beneficial for the cities where they live – and Waterloo is no exception.
Here are a few financial facts:
They aren't just hitting the books – but also the barista's trade and the bartending profession. In fact, Maclean's Magazine has revealed that 78% of students support themselves by working through school. And they aren't just sticking to the campus bookstore: 44% of them found employment off-campus.
Pumping an average of $1100 a month into the local economy, students have a huge impact, spending on everything from books and bar tabs to laundromats and lunch, to summer sublets to storage rentals. . While the tumultuous tech giant Blackberry brings a lot of dollars into the city of Waterloo, it's actually challenged by the hefty contribution of students. Blackberry's net income of $200 million US is dwarfed by the impressive spending power of students funnelling a whopping $440 million into the local economy – and that's just over the eight months of the school year. And it isn't only Canadian students fuelling this financial windfall. International students contribute billions of dollars to university cities across Canada, according to a recent federal study.
Towns and cities lucky enough to boast post-secondary institutions also get the jobs that go along with them. According to a Conference Board of Canada report, a hefty 700,000 indirect and direct jobs were supported by universities and colleges, a healthy amount of economic activity that directly fuels cash – $55 billion, actually – into local economies.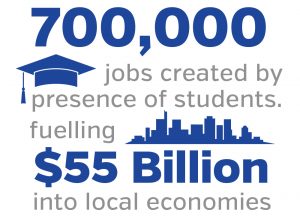 Students Strengthen Community
How does it feel to live on the cutting edge? That's the name of the game in Waterloo, where university projects regularly spill over into community life like the U of W's Faculty of Environment's students helping create a local Climate Action Plan or Wilfrid Laurier students volunteering at local organizations as part of the school's Community Service-Learning Program. Likely, the students  involved in these programs are a better representation of the school community than the kid you spotted during frosh week passed out on his front lawn boasting elaborate facial hair sketched in permanent marker.
Ultimately, there's a lot to be thankful for each autumn when you welcome the students back to your city. Sure, you'll have to brace yourself for the learning curve that freshman encounter when first flying the nest, but once the snow comes, the dust will settle. And we bet pretty soon you'll find yourself generously tipping the local barista and full-time engineering student who gets your complicated coffee right, every time.  
Please follow and like us: